The state flag of Washington stands out among its brethren:  not only is it uniquely green, it uniquely bears the likeness of an actual person.  People appear on many US state flags, but other than on Washington's they stand for generic farmers, pioneers, etc. (Many believe the figures on Kentucky's flag are Daniel Boone and Henry Clay, but this is unsanctioned by any official document.)
Just in case the viewer is unfamiliar with George Washington, the Daughters of the American Revolution in designing the flag have helpfully included the entire state seal, which identifies itself with a circular inscription: THE SEAL OF THE STATE OF WASHINGTON 1889.  Alas, for the extremely literally minded, we are left with a flag that could be read as saying that it is a seal.
Confused yet?  As a public service, we offer the following improvement:
Flag trivia books like to say that Oregon's is the only double-sided state flag, and there is no denying that a (poorly rendered) beaver is different than a bunch of text and a seal.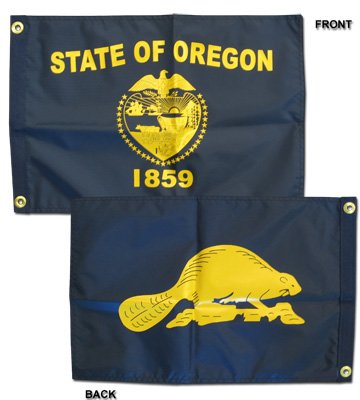 However, the Washington flag is often also made to be double-sided, so that the seal appears the same on both front and back, with George always facing left (towards the hoist on the front, away from the hoist on the back).
This adds complexity to manufacturing, as a seal must be sewn onto the back of the flag.  So many inexpensive Washington flags are simply printed onto fabric, which makes the reverse look like this:
Where does the image of George come from? Washington's flag represents a rare intersection between the worlds of flags and postage stamps, as noted by the Secretary of State's office:
The emblem on the state flag is the state seal, which was first designed in 1889 by Olympia jeweler Charles Talcott. Talcott used an ink bottle and a silver dollar to draw the rings of the seal, and then pasted a postage stamp in the center for the picture of George Washington. His brother L. Grant Talcott lettered the words "The Seal of the State of Washington 1889" and another brother, G. N. Talcott, cut the printing dye. In the seal used on the state flag, the picture of George Washington has a blue background and is encircled by a gold ring with black lettering.
To conclude, here is a sampling of proposed alternative flag designs for the Evergreen State, from the Vexillology Wiki:
See also: